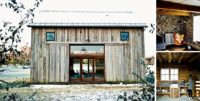 Take a look at this barn built before the civil war, repurposed as a house in the Catskills. A small house, but set in nature, and they have a raspberry patch. It's a couple who live there. I guess they wanted to get away from the business of the city. What is your ideal house and location, though? Is it a repurposed old relic like this one out in the countryside, or a prefab house on a lake? or something in the city?
For those of you interested in something like this repurposed barn, it was part of a bigger property purchase for Fabio Chizola, a fashion photographer and his wife, also in the fashion business.
The property is a Datch-American stone farmhouse and it has several barns. The one in the photo above is one of these barns. The property is actually a 32-acre apple orchard.
The siding isn't original. It was replaced with mushroom wood.
The couple said they liked the property in part because it reminded them of Italy. Both the couple are from Europe.
A couple notable features: that long plank table in the photo: its a custom-made single-slab oak board table, which came from Woodstock, New York.
That stone work on the walls is original.
The house cost the couple $385,000 in 2002, and they did some home renovations on the new property for about 5K more.
This picture showing lots of the house's features is probably best viewed on a desktop computer, or tilt your phone sideways. The photography was done by Randy Harris for The New York Times.
10926 total views, 1 today