There are houseboat designs, and there are houseboat designs. Forget about the square standard shape of a house with this particular Nautilus design: it's a 2-story round tower instead, with a rooftop patio. It has a kind-of-a-funny name, if you come from Canada, where EI means something else than luxury R&R.
From the builders, "As a holiday home, our Ei-Home offers, on one floor with 45m² living area, room for all conveniences for an unforgettable holiday. The large picture window offers an unrestricted view while one can relax in front of the open fire or in the sauna.
"A 50m² roof area is available as a sundeck or for solar panels. Our little Ei-Home is naturally suitable for residential use. Layout and equipment can be specified."
Specifications: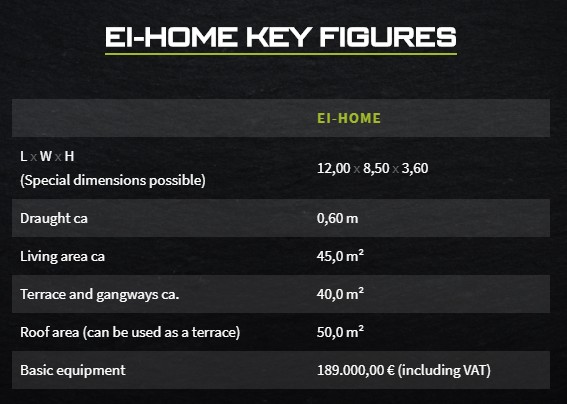 Find more from Nautilus and other houseboats we've indexed in our Home Designers and Builders Directory. You can search the company's name and look builders near your area. And to see more houeboats, click here.
Gallery of images: