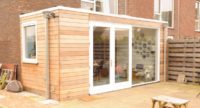 It takes 5 days for this company to add one of their prefab house additions to your building. A work week of time.
They do a number of different model designs, but we liked this one in the photo above. More photos below (they all expand).
The exterior cladding on this one is Western Red Cedar and the frame is wood also. Construction time for this, in and out, is 5 days, and to remove one the time is the same, if you ever need to move yours. They also have a 10 year warranty.
This wooden prefab development was done in Abcoude, Utrecht province – that's a ways away from many of us, who live in North Americans, but the idea is still good, to know how long and get a look at these additions. The two skylights in the roof of the house make the interior of this prefab light and spacious.
For more information about Prefast, who builds these units, find them in our directory of prefab homes.
5741 total views, 1 today