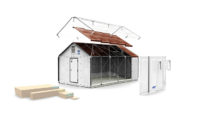 The prefab housing units also have solar panels that provide (4 hours of) electricity, something the tents do not have, despite the 6 PM dusk of the areas where they're most commonly used. It also provides energy for utilities during the day.
And see the roof of these prefab houses? They have a "shade net" which may look simple but actually makes a big difference. This reflects the sun's heat during the hot days and reflects the prefab home's heat at night to keep it warm at that time. Tents and tarps don't do these things.
Even if you aren't immediately impressed by the Plain Jane appearance of these modular prefabs, IKEA says, you will be impressed by living in one, especially when compared with other emergency housing options.
And they are durable, able to withstand extreme cold, fine sand, heat and rain. They're also modifyable. The people who live in them can arrange them so the windows can be where they want, doors can be where they want, etc.
So with their prototype version, IKEA set up dozens in several needy countries, and then received feedback after 16 months on how the tents fared, so they could learn how to make them better.
"For example, there are no floors since wet mud floors have a cooling effect as the water evaporates," according to IKEA. "The location of  windows and doors is flexible. Families with babies wanted windows nearer the bottom of a wall panel for air circulation."
From there, they fine-tuned what is now called the "Better Shelter." The UNHCR ordered 10,000 of these for their needs, an order which IKEA has now filled. Most went to Iraq, others became medical stations for MSF in Nepal.
How long does it take to assemble one of these simple prefab homes? Just over 3 horus, using 4 people, once you know how to do it well enough. Tools required? No additional tools besides the simple IKEA tools included in the boxes.
Price? $1100 – or just under 1000 Euros. Compare that with the tents which cost $500 (and were replaced after around 6 months. As IKEA says, "Multiply this over decades and thousands of families, and the savings are huge."
IKEA's prefab homes are continuing to be developed to provide variable solutions to the needs of various locations and situations, the company has stated.

Now, although IKEA's prefab houses are currently just used in emergency situations and are purchased in large orders by the likes of the UN, we all are probably familiar with the number of products that start out this way, being developed and sold to the military and other organizations with special requirements they have to meet, and are later developed into commercial markets for domestic use. Given the wide range of products IKEA makes, and the large investment of resources the company has made in this venture, one might guess that these prefab structures will make it to local markets in the future and be sold individually in stores. Why not? They come in sets of a few manageable boxes you could put in the back of a pickup truck, and require no special knowledge to set up. The $1000 (or just over) simple basic prefab home with solar power might not be that far away! Click the following photo of assembly to enlarge (large image and displays best on large computer screens).
Return to page 1 about this IKEA project, click here. For more prefab houses, click here.  We've also indexed a huge number of alternative building options in our Home Designers and Builders Directory.
95687 total views, 49 today