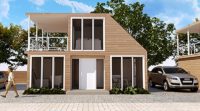 These prefab house "cube" designs are by Prefab Woning, whose concepts aim at being suitable for permanent residence and are available in many designs.
The basis of all these cubical prefabs is always being constructed from steel containers. This is a prefabricated building technology that means your house is not only robust but also affordable.
Depending on your needs, the steel walls of the Cubes can be left visible or covered so they aren't visible. Thus, the steel plates can be painted in any color, or can be finished with Western Red Cedar as a maintenance-free wood replacement. At an additional cost, the outside of all the shipping containers can also be finished with stone strips.
With over 20 years of construction experience, Prefab Woning can quite fill some pages with examples of successfully completed projects. They specialize in prefabricated solutions, and have worked in steel, timber and combinations of both. The application of these building techniques is very diverse, allowing them to achieve both ground-level or lower construction, summer house style, dormers and even complete prefabricated houses.
Here is a sample of their prefabricated housing solutions based on the various cubes they offer. Since they always provide customized houses, each cube is different. Keep in mind that virtually every adjustment possible.
For more from Prefab Woning, find them in our directory of prefab house builders and designers.
8417 total views, 1 today