Home owners can feel trapped into decorating their barn style homes a certain way. Just because it's a barn house doesn't mean that all furnishings must be traditional or southwestern. Your barn style house can be decorated in a way that is uniquely you, whether it be traditional, country, or modern minimalist.
The coffee table is the centerpiece of the living room area and can be a conversation starter if it's style is unique enough. With a barn home you don't have to limit yourself, you can compliment the traditional style or design through contrast, where you choose pieces of furniture that are the opposite of what is expected.
Here are some examples of coffee tables that go with the flow and traditional style of a barn style home:
Now here are some examples of more modern coffee table styles that will still compliment a barn style home: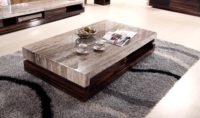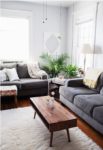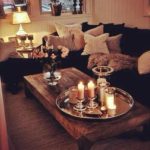 The main difference between these more traditional coffee tables and the 2nd tier of tables, is that the second set of coffee tables are simply a bit more sleek and they play around with materials and angles, and also cultures, as the tables are lower to the ground, more Japanese style coffee tables.
The interior of a barn house can be decorated with furniture from many different cultures that will honor the dwellers, more so than honoring a tradition that the homeowner may not connect with. Everything from Asian to Hispanic can compliment a barn style house, you must simply choose the furniture you love and try it out inside the home. You may find modern minimalist may be your style and that it compliments the wood and moldings inside your home just beautifully.
When in doubt, try a glass coffee table, then you can decorate the coffee table with traditional and/or modern ornaments.
Here are some examples of glass coffee tables that can compliment a barn style house if decorated with the right accessories: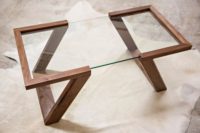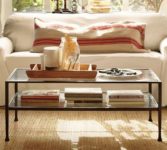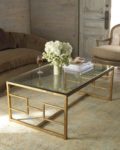 These three coffee tables are glass, which does give them a modern flair but their designs are incredibly versatile. The key is to find glass coffee tables that are more minimal and spare underneath, so that the glass stands out the most. But if you're not afraid to be modern inside of your barn style home then go for it and choose the most modern table you can find. As long as you and your family enjoy it, that's all that truly counts.
photos: Pinterest