Practically unlimited financial opportunities in Dubai allow architects to translate into reality the most ambitious projects — of all sorts, including a lot of on-water architecture, such as these houseboats. These days, the residents of the Emirates sometimes settle in grand coast-carved communities like "The Palms" or new luxury houseboats. These appeal to those people who appreciate luxury and originality, maybe.
These "New Living On Water" objects are available as both hotels and private homes. Each houseboat unit will be anchored at the shore of Dubai. Its dimensions are 50 meters long and 30 meters in width. The rounded shape partially hides the hosts and their guests from prying views of onlookers.
Each houseboat will have 1500 sq. meters of living space and 48 square meters of exterior space. Inside, the house is divided into three levels, where the living room, dining room, kitchen, bedroom, bathroom, study and utility room are connected. The houseboats will be equipped with residential air handling systems inside the home so temperatures can be maintained at comfortable levels.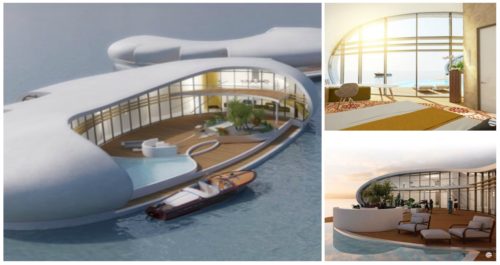 A complex of new New Living house / houseboats will be launched at Cityscape Global in Dubai. According to preliminary estimates the cost of each of the houseboat will be 11 million US dollars. For more houseboats and other interesting home ideas, find them in the Building Homes and Living directory.