Simply WOW! This is perhaps the initial reaction one would have upon seeing this wonderfully-constructed metal home. Morton Buildings deserves a whole round of recognition for this amazingly innovative project – a full 42 x 60 metal building home with a pool & chill-out area plus indoor and outdoor bars. It is a perfectly constructed home that could make anyone forget about having a vacation elsewhere. It is relaxing and secure, and provides all the amenities required to live a comfortable and decent life.
The home features an irregularly-shaped pool and a chill-out area that can offer a peaceful escape from even a rather busy lifestyle. It is also a perfect place to entertain guests and to have a party, due to the interesting layout. This metal home has a humble exterior but one that highlights
its inexpensive furnishings such as its cost-cutting windows, doors and other details. The property's interior feels like stepping into a glamorous palace — despite being a metal building — that offers both comfort and luxury. It is modern and homey at the same time. Even the kitchen is meticulously designed with carefully-selected details to suit the home's elegant aesthetic.
Who would say "no" to a spacious property that exudes class and simplicity yet is perfect for family with kids. Morton has indeed come up with a home that is beautiful in every corner and has a character of its own. From its glass doors and windows, classic façade, metal fence along one side of the pool and uncomplicated landscape; there is a lot to look forward to in every part of this single-story property.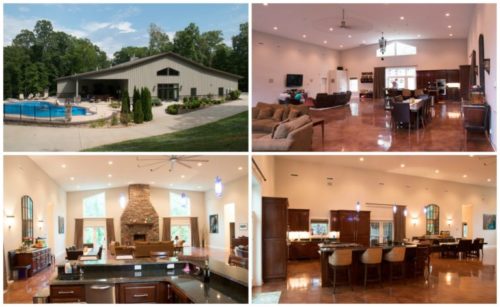 For more of Morton's work, or to find other metal building companies, find them in the Building Homes and Living directory.