This huge building is spectacularly transformed into a lovely home! The improvement options are infinite in terms of house decoration, allocating bedrooms and determining which room to use for a specific purpose. Outside, many renovations were carried out to transform the building into a homey abode. Why? Metal houses make it relatively easy to modify the structure, and metal construction is also relatively inexpensive when it comes to materials and process.
A specialized paint job and corresponding roof, as well as windows with shutter settings, give it a cozy feel. A garage is there to keep the cars safe at night or alternatively, it can be set as a good space for leisure pursuits. The area is surrounded by sand and some gardening talent is needed to create a beautiful masterpiece. Luckily, there are several tall trees that provide shade to the garden space.
Once you step into the house, you will realize how impressive the workmanship is. Timber ceilings, polished tiled floors and sufficient illumination all add to the beautiful homey ambiance. Ceiling fans are mounted all around the house to keep the place cool. There is a living area to meet family members and guests and a functional built-in kitchen for easy meal preparation. The dining room are just as stylish as the sitting room.
It is indeed a gorgeous family home for a metal building. With just some work to do for garden redecoration, this house can be transformed into something that selective home buyers would love and adore.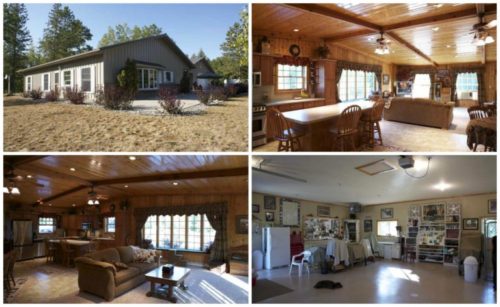 It is an impressive masterpiece of metal building construction by Morton Buildings!
For more of Morton's work, or to find other metal building companies, find them in the Building Homes and Living directory.