Ok, we've had a few modular houses on this site, and a few farm houses and barn houses, but this one's not only a modular farmhouse, but its also a 'net-zero energy efficient' house. That means that it creates as much energy all by itself as it end up using.
Not only that, but look at this attractive design? Would you look at this house and think that energy efficiency was at the top of the design concerns? It's a traditional, rural look and a bright airy interior design.
Every Brightbuilt Home is:
Energy efficient
Healthy
Conscientiously designed
(see specs & finishes for details)
The Great Diamond features:
Open main floor plan
Expandability – spacious attic
Efficient form = cost effective
Stats:
1608-2200 sq. feet
2-3 bedrooms
2.5 bathrooms
This is what Bright Built Homes net-zero energy process looks like, according to a conceptual schematic: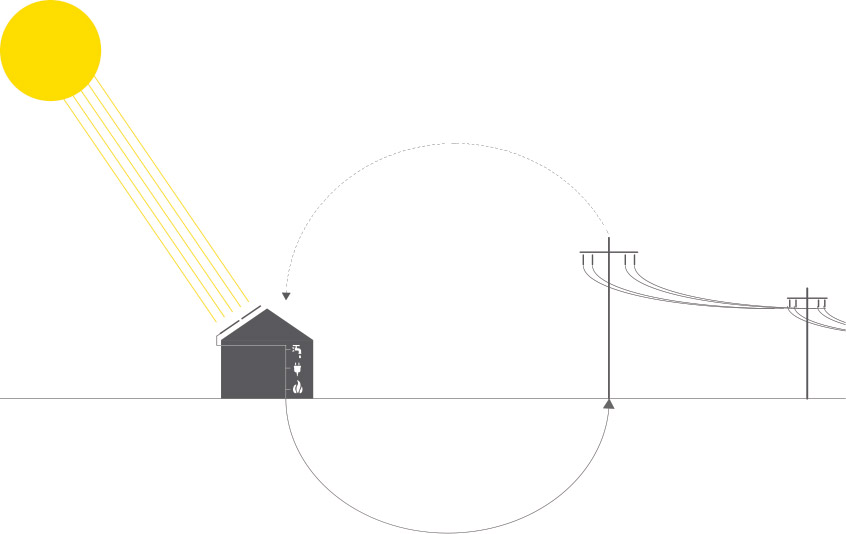 According to the company, "Net zero is, put simply, the process of end-using – or "netting" – zero fossil fuels. To achieve net zero, a home must have the ability to generate power (typically through photovoltaic solar cells), and must consume the equivalent or less of what it generates. Most net zero homes today remain connected to the local power grid, such that they may feed surplus electricity back to world, and likewise obtain power during long stretches of cloudy weather. At the end of the day, you're running a fair and balanced operation (with no oil or natural gas expenses, to boot)!"
Find more from Bright Built Homes, and the modular design and build companies we've indexed in our Home Designers and Builders Directory. You can search the company's name and look builders near your area. And to see more modular, click here.