A number of minimalist prefab house and cabin designers have been popping up. The house design in many of them has tended toward the most basic elements of a house: shelter based on a peaked roof and a rectangular structure.
Most of these prefabricated homes have two rooms plus a bathroom, although some have a loft or two instead. Another thing that is becoming common, it seems, is the simple grey or muted color exterior, often resembling or partially composed of concrete. Because the slabs that make up the exterior wall have their own wear patterns, it adds some character and provides some sense of natural-ness to the prefab house. Interiors are often finished with white paint.
One such company is Abaton, who designed and is building the prefab home pictured above. They have various sizes, which means various prices and various levels of accommodation. For example, they have one which is 145 square feet — just a room and a bathroom, which sells for around $24,000.
Don't confuse this photo with that price though. While the 24K figure has been attached to this structure's photos elsewhere, what is pictured here is the larger (about double the size of the 24K 290 square foot prefabricated house) unit, which is 27 meters square (290 square feet), and the cost for it is around $42 K.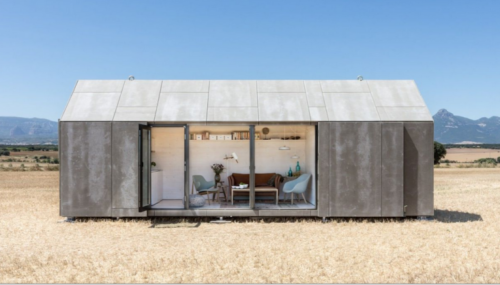 On top of that you have to figure moving costs (based on distance, frequently — Abaton is in Europe, but I've seen US prefab companies that offer similar designs), crane rental (hourly, usually), interior fixtures and appliances and hookups. However, this prefab house design plan has caught some attention, so it might be worth looking at and considering when matching up against other prefab house designs before making any final decisions. For more of Abaton's and other prefab work, find them in the Building Homes and Living directory.