In our pursuit of prefab and modular houses, tiny houses, and other options that might enable every person reading us to get themselves into a house, we came across this slightly bigger prefab house. Yes, it's still a prefabricated building, but it's no tiny house. It's 2,575 square feet. It's an interesting design though, and that's the main reason we're including it here.
Who doesn't want a larger house with several rooms (this particular prefab house has 3 bedrooms)? Well, actually not everyone, it seems, as there are people looking to simplify, reduce and be economical in more ways than one. This house might not be the most cost economical house. But even if you're someone not looking to spend that kind of money, it's an interesting design, and maybe one that you can employ in what you do end up picking after you've looked at enough prefab and modular houses. This one's base price is $435,000.
It's got 2.5 bathrooms in addition to its 3 bedrooms, spread over 2 levels. It also has that large glass wall looking out onto the patio.
It's called the Prefab ModBarn, and it's by Jet Prefab. It's a simple, single-isle, barn-style prefab home. It has a large gabled roof with equal sides. And it gets a lot of natural light due to that large glazed wall.
The master bedroom and two other bedrooms are located in the back, so they're not as brightly lit as the living area. The second floor is mostly a loft with a living area that can be used for various purposes, like an office, play area, library, craft area, or whatever else.
This prefab has EPDM membrane roofing, which is wood and SIP framed, and uses OSB and SIPs sheathing. The insulation is SIPs cellulose throughout (walls and ceilings).
The finish for the siding is fiber cement and cedar T and G, and those windows you see in the photo are dual-pane Argon filled low-E windows.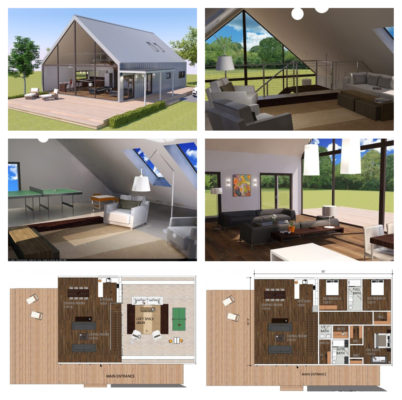 The walls are gypsum drywall and this prefab house unit has hardwood floors. To see more of Jet Prefab's work, and to see other modular and prefabricated buildings, find them in the Building Homes and Living directory.