Here's a designer prefab home design from a North American company that mixes Scandinavian style, factory build speed, and local building and delivery.
The company is called Karoleena, and they've been building a reputation for their prefab houses and modular cottages in Western Canada.
Their prefab design concept is based around three things: modern Scandinavian styling and premium finishes throughout the prefab building. They include top-quality craftsmanship in their builds, according to the Penticton company.
Next, they build the modular home in their indoor factory. They provide a 6 month time frame for building the prefab, then they can deliver and set it up in days — actually, I saw a headline once about this company, and they set it up in hours.
The benefit of the factory construction, as most prefab home shoppers know, is efficiency. No travelling to and from the site, minimized construction material and time waste, all tools at the factory, no delays due to weather like snow, rain, and sleet.
The company is out of Penticton, British Columbia, and they build there and deliver locally or anywhere else. They work on prefabs for city lots, remote locations, or wherever else someone wants to put on.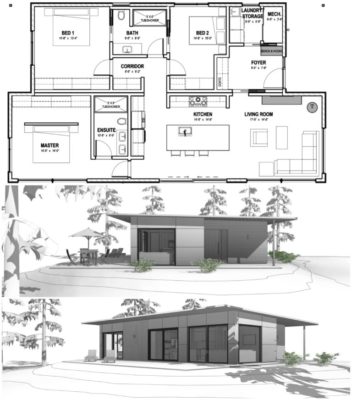 They have a number of prefab designs ready to choose from, the image above being just one of the options. To see more from Karoleena, find them in our prefab home and modular builders directory (click here).