Recently we've been taking a look at easy-to-set-up garage building homes as solutions for people who want to build inexpensively and easily, and are exploring alternative home building ideas and styles, and in particular we've noticed the Barn Yard's range of garage buildings, some of which have been finished on the outside to rival any regularly built house, and furnished on the inside the same way – just look at some of the photos of the exterior finishes in wood or vinyl, the finished roofing, and the cozy, modern interiors of these. They barely resemble garages anymore, except that they often feature a wall of garage bays to accommodate your vehicles (or your guests or renters vehicles).
The Berkshire is a saltbox-style 1 1/2 story garage – the 1/2 story sits under the peaked roof, and some of them have dormers or gables – always a popular feature where you can sit and watch the world go by outside and get a bit of breeze at the same time.
They build these in a variety of sizes, and set up is pretty simple: they set up a foundation (if you're using a foundation, but you might be building barn house style too), then transport out the pre-assembled walls and crane them into place from off of the truck, like a kit home or prefabricated house, then they finish off the roof and exterior cladding, then the doors and windows and other finishing touches, and the garage house is complete.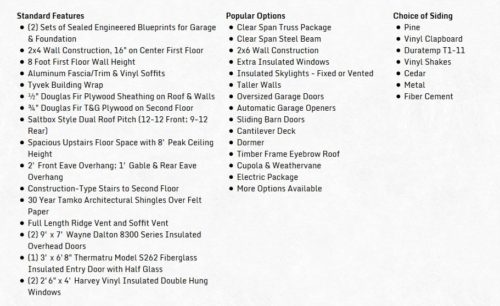 Click to expand this list of specifications for these garage houses (or garage buildings for other purposes – lots of people use them as garages only, some as guest quarters or a rental suite, some as commercial or office or other work spaces – garage buildings have a range of uses, and you can convert on after the fact.
For more from the Berkshire garage buildings or The Barn Yard , we've put them in our directory of home builders, and for more barn homes, click here.