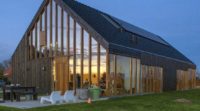 As a blackbird spread its wings in the sun to dry, this black house landed in this rural area. The open side of the house beneath the wings is designed to view the closed side is on the north and there also is the house's entrance. In the black paneling of the north facade is a work of art machined from the timber.
Under the wings, the natural tones of the interior differ strikingly from the wooden exterior, as the orange beak of the blackbird. There are white and even yellow painted rooms.
The warm natural tones are nurtured under the wings. The black exterior must defy wind and weather. The house has a barn-like appearance which suits the rural setting. The house can accommodate a work space, bed and breakfast (it was designed with BNB in mind) and kitchen on the ground floor. On the upper floor, under the large gable roof, are the living room and bedrooms.
To seem more tiny houses and some modular / prefabs by Onix (the designers of this house), find them in our directory.
1307 total views, 0 today