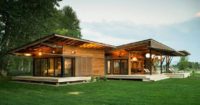 When it comes to prefab homes, some people want a modern, minimalist modular look and others want a more traditional, wood frame house look. This prefab home goes for the second route. It's a flat layout "American dream home" inspired design by E.G. Engler.
The prefab home design looks bigger than the interior space because, well, it is bigger. It has expansive deck area and expansive deck covering, which makes for a large indoor/outdoor space.
That deck is almost 2,4000 square feet. The bedrooms of this building have screen doors (barn-door slider style) made of reclaimed fir wood (you can see one in the photo above).
The house belongs to Jeanne and Paul Moseley, and its set in the Ruby Valley. The designer of this prefab home, E.J. Engler, is from Medicine Hat, Alberta, and it's based on the "American dream" houses of Cliff May (The photography is also from Will Brewster of Medicine Hat). And the interior decorator of this modular house is Stephanie Sandston of Greathouse Workroom.
Essentially, the prefab home here is four modular units which were prefabricated on vacant lots near the site and then transported to location, where they could be assembled quickly, minimizing the building footprint. Each pod contains a section of the house, which would, potentially, allow the house to be re-arranged at some later date, one of the benefits of modular home construction.
In this case, one pod has the master bedroom and bathroom, another has the kitchen/dining/living room space, a third has the children's bedrooms, another bathroom, and the fourth module has a pantry, den and laundry room.
4415 total views, 0 today