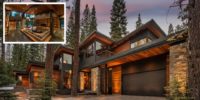 Prefab homes can look like modular buildings — minimalist tiny homes — but they can also look like regular houses, at least according to this prefab home company called Sagemodern.
They approach their modular home building projects with an 8-step process: first, the visit the building site to get an idea of the size of the space and what might suit the location.
They then check out building requirements for the site, deliver a report to their client, and meet again to discuss the prefab home design. They use a questionaire at this stage to help guide new prefab house buyers through the process.
Then they work on the schematics design of the prefab structure to be built, including 3D renderings of the potential house. Then they work out the cost and schedule by which they can complete the project.
Then comes a stage the buyer has a lot of say in: design development, where all the finish details, house systems and material to be used (cabinets, flooring, exterior finish) are worked out.
They then proceed to make the building plans customized to the particular prefab project, get the permits, work with its building partners for their bids, and then build the prefab home. After its built, they deliver the modular structure to the site and set it up, including all the systems, interior and exterior finish.
To see some prefab house designs by Sagemodern, find them in our prefab and modular homes directory.
51 total views, 0 today