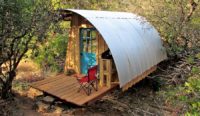 Here's a DIY tiny house unlike any you might have seen before. These fellows did it with just a bit of lumber and that piece of corrugated metal. Interested in trying something like this yourself?
They're a couple of Californians, named Matt & Margo, and they built this one over a dry creek bed (usually dry, anyway).
It's their summer cottage, and it's located, for those interested, in the western foothills of Sierra Nevada Range, California.
They also mentioned that a tiny house like this, set up as a summer house in an out-of-the-way location in an area with a significant amount of fires, like those California mountains, is one that isn't relatively that big an investment, and if it ever were to burn up in a wildfire, they could just rebuild it.
Nice little deck, and you probably noticed that sheet of corrugated metal is quite small, and they made do by using it like a single-pitch roof, with a bit of a slant to the rest of the building.
8178 total views, 7009 today