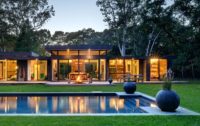 Whether you're a prefab home buyer who wants something big or small, you're going to be thinking about modular design. This company has a number of very distinctive design features you can think about incorporating.
They're called Bates Masi Architects, and while they build prefab homes for all over North America and other continents, they have roots in NYC.
Their approach to a prefab home project involves a custom experience — each project, they say, they respond to with extensive research into materials, craft, and environment to come up with a unique modular solution.
They consider not the size or the type of a prefab project, but instead focus on "enriching lives and enhancing the environment."
Some notable features of their design: attention to building setting, prefabricated sheer wall panels, light frame construction for hurricane- and wind-protection, added strength using light gauge metal reinforcements, solid steel transitions, perforated panels to modify sunlight entering interior space, reduction in material needed using new fabricated custom panel technology. To visit Bates Masi, find them in our prefab and modular homes directory.
2311 total views, 0 today